Drouin's local Hot Water Repairs
Your professional water heater plumbers in Drouin are ready to help today. Free quotes, fast service.

Fully Licensed
Fully qualified and fully licensed plumbers & gas fitters

Emergency Plumbing
Fast response emergency service from our on-call plumbing team

Upfront Pricing
Honest and upfront pricing with itemised quotes

Work Guarantee
We are reliable, honest and we stand by our workmanship guarantee
Hot water system in need of repairs or replacement?
Water temperature too low? Contact Luv2plumb for fully licensed Hot Water Plumbing Services in Drouin
Luv2plumb have a fantastic reputation as the hot water specialists in Drouin. We install, service and repair all brands of hot water systems (Rinnai, Bosch, Vulcan, Aquamax & more). We are on-call 7 days a week in Drouin with a full range of plumbing and gas fitting services to help get your hot water service fully operational. If it can't be repaired, we can replace it.
We start with an initial inspection to see if your system can be repaired or if replacing damaged components will make it operational. If not we can help you select a replacement hot water system from leading brands and provide quick installation to reduce any inconvenience.
If you have an old style hot water unit and want to upgrade, we can even install new instantaneous hot water systems (something that many people in Drouin can't live without!)
Our Drouin plumber is ready to help you with

Instantaneous Hot Water
Hot water all day long

Hot Water Servicing
Maintenance, parts & repairs

Gas Line Repairs
New gas lines & repairs

Hot Water Upgrade
Upgrade & replace old water heaters
Trusted by the Drouin community
We are serious about providing great customer service and always do our best to be polite, honest & reliable to ensure your emergency is dealt with professionally.
"Helpful from the first point of contact! Very understanding of what we wanted and answered all my questions and concerns before I gave them the job. On site Riley was efficient and knew his stuff. Very polite and great to deal with. Highly recommend!"
"Gareth and his crew have been able to assist us with plumbing for both our residential and commercial portfolios and they have proven themselves to be diligent and highly competent contractors. All of the staff have been great to deal with and very professional. Well done guys!"
"If you're looking for a really good plumber, look no further. From the moment of calling them, they were polite, fast and efficient. They came, identified and fixed the issue very quickly. Very fair pricing, honest and great service."
Fast. Friendly. Professional.
No more cold showers, we can fix your hot water service!
Assessment

Investigate the cause of the problem

Plumbing Repairs

Repair associated plumbing (such as gas and water lines)

Hot Water Service Repairs

Repair the hot water unit & replace faulty components

Hot Water Service Replacement

In the rare case that the unit is beyond repair we can install new systems
Why Choose Luv2Plumb?
We weren't kidding when we chose our name, we really do love to plumb.
Prompt & reliable service
Fair & honest pricing
Your home is left clean
Fully licensed & insured
Works is guaranteed
Our reviews speak for themselves
About Luv2Plumb in Drouin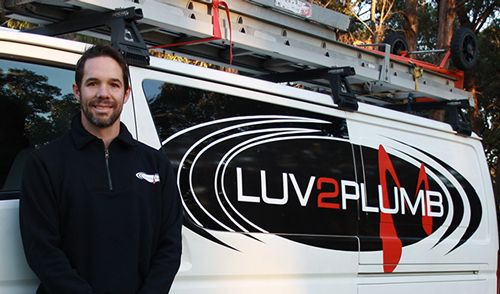 Led by Gareth Mepstead and established in 2005, Luv2Plumb have provided plumbing services to the people of Drouin (all 51,000 residents) for more than 10 years. We have a great reputation and take pride in the work we do. Our team is local to Drouin allowing us to get to appointments on-time, and we know the area well.
Hot water system problems are quite common in Drouin, and there are a surprising number of houses that still don't have instantaneous hot water systems (which most people prefer). Being a very family oriented suburb, ensuring that everyone has reliable hot water flowing from the pipes to the faucets, taps and shower heads is no small task!
If you have a plumbing issue, don't put off getting it fixed or it will turn into a bigger (and more expensive) problem to fix. Call now for a free quote 1300 259 053.