Berwick's local Gas Plumbers
Your professional gas fitters & plumbers in Berwick are ready to help today. Free quotes, fast service.

Fully Licensed
Fully qualified and fully licensed plumbers & gas fitters

Emergency Plumbing
Fast response emergency service from our on-call plumbing team

Upfront Pricing
Honest and upfront pricing with itemised quotes

Work Guarantee
We are reliable, honest and we stand by our workmanship guarantee
Is your gas heater working properly?
or do you need a gas appliance installed or repaired?

Contact Luv2plumb for fully licensed Gas Plumbing Services in Berwick
Luv2plumb have a fantastic reputation as the honest, reliable and polite plumbers - just ask the huge number of customers that use our plumbing services in the Berwick area.
When you need any gas work done, keep you and your home safe by choosing a highly qualified expert. Luv2Plumb has fully qualified and licensed plumbers experienced in all gas fitting services, from gas heater service and repairs, gas appliance installation and repairs, detecting and fixing gas leaks and also routine gas pipe and appliance maintenance.
Our team undergo continuing training in health and occupational safety and keep up to date on the latest advanced gas fitting and gas leak detection techniques and methods guaranteeing safety and quality workmanship in gas installations and repairs. Because gas can be dangerous we provide an emergency, on-call, 24/7 service to attend to any urgent gas leak problems. And because our plumbers are in Berwick, we can get to you quickly.
Our Berwick plumber is ready to help you with

Gas Appliance Installation
New gas appliances & replacements

Gas Leaks
Finding & fixing gas line leaks fast

Gas Lines
New gas lines & repairs

Gas Heaters
Installs, repairs & maintenance
Trusted by the Berwick community
We are serious about providing great customer service and always do our best to be polite, honest & reliable to ensure your emergency is dealt with professionally.
"Excellent service by Rick on 2 occasions. Nothing is too much trouble. Would recommend them. PS price was extremely fair."
"Each interaction has been exceptionally professional, prompt, courteous, helpful, reliable. Great work in repairing the issues at my home in a timely and informative manner. Really appreciated feeling like a priority."
"Could not be happier! Great team of people and very professional. I would highly recommend to my friends and family."
Fast. Friendly. Professional.
Don't take a chance on your gas works. Trust expert gas fitters
Gas Heater Service & Repairs

Keeping your home warm with expert gas heater installation & repairs

Gas Appliance Installation & Repairs

Ensuring gas appliances are fitted and working property & safely

Gas Leak Detection & Line Repairs

Protecting your home from harmful carbon monoxide and gas leaks

Quick Response Time

Being local in Berwick, we can arrive quickly, 7 days a week
Why Choose Luv2Plumb?
We weren't kidding when we chose our name, we really do love to plumb.
Fair & honest pricing
Prompt & reliable service
Fully licensed & insured
Works is guaranteed
Your home is left clean
Our reviews speak for themselves
About Luv2Plumb in Berwick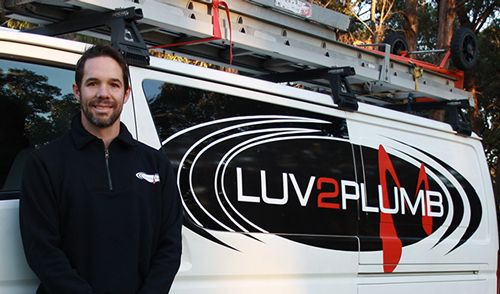 Led by Gareth Mepstead and established in 2005, Luv2Plumb have provided plumbing services to the residents of Berwick (all 48,000 of them) for more than 10 years. We have a great reputation and take pride in the work we do. Our team is local to Berwick allowing us to get to appointments on-time, and we know the area well.
Because of the variety of homes we attend to in Berwick, we have serviced a lot of different gas heater systems and installed many gas appliances in and out of the home. We've built up a lot of experience and provide high quality gas fitting services to all Berwick homes. Have peace of mind that your gas works are performed by highly skilled, licensed plumbers putting your safety number #1.
If you have a plumbing issue, don't put off getting it fixed or it will turn into a bigger (and more expensive) problem to fix. Call now to talk with a Berwick plumber on 1300 259 053.