Berwick's local Dripping Tap Specialist
Your professional leaking tap plumbers in Berwick are ready to help today. Free quotes, fast service.

Fully Licensed
Fully qualified and fully licensed plumbers & gas fitters

Emergency Plumbing
Fast response emergency service from our on-call plumbing team

Upfront Pricing
Honest and upfront pricing with itemised quotes

Work Guarantee
We are reliable, honest and we stand by our workmanship guarantee
Is a dripping tap keeping you up at night?
That slow drip is also costing you buckets of water down the drain! Contact Luv2plumb for fully licensed Plumbing Services in Berwick
Luv2plumb have a fantastic reputation as the honest, reliable and polite plumbers - just ask the huge number of customers that use our plumbing services in the Berwick area.
We are happy to help fix any leaking taps. We have the skill and experience to repair all types of taps, new or old, including mixer taps and shower heads. From your indoor hot and cold water taps to your outdoor garden taps, our friendly plumbers are on-call 7 days a week in Berwick to seal your taps and stop any wasteful dripping. And if it can't be repaired, we will help in finding the right replacement taps and installing them.
Don't let a leaky tap result in costly water damage to your home. Have your leak fixed by an experienced reliable plumber from Luv2Plumb. Our fully licensed, fully stocked team carry all the necessary tools, pipe and fittings to ensure a fast and profession fix on plastic pvc, copper, chrome and most other types of pipes and joints.
Our Berwick plumber is ready to help you with

Shower Heads
Leaking shower head replacement

Mixer Taps
Kitchen sink and bathroom mixers

Hot & Cold Taps
Leaks stopped, hot or cold

Garden Taps
Outdoor taps in the garden
Trusted by the Berwick community
We are serious about providing great customer service and always do our best to be polite, honest & reliable to ensure your emergency is dealt with professionally.
"Excellent service by Rick on 2 occasions. Nothing is too much trouble. Would recommend them. PS price was extremely fair."
"Each interaction has been exceptionally professional, prompt, courteous, helpful, reliable. Great work in repairing the issues at my home in a timely and informative manner. Really appreciated feeling like a priority."
"Could not be happier! Great team of people and very professional. I would highly recommend to my friends and family."
Fast. Friendly. Professional.
Leaking taps are money down the drain!
Hot & Cold Taps

We have experience in repairing both new and old style taps

Mixer Taps

Experts in modern mixer tap repairs and replacements

Show Head Replacements

Replacing leaking or cracked shower heads

Garden Taps

Keep the water for your plants and protect your yard

Fast Response

Ready to help 7 days a week in Berwick
Why Choose Luv2Plumb?
We weren't kidding when we chose our name, we really do love to plumb.
Fair & honest pricing
Prompt & reliable service
Fully licensed & insured
Works is guaranteed
Your home is left clean
Our reviews speak for themselves
About Luv2Plumb in Berwick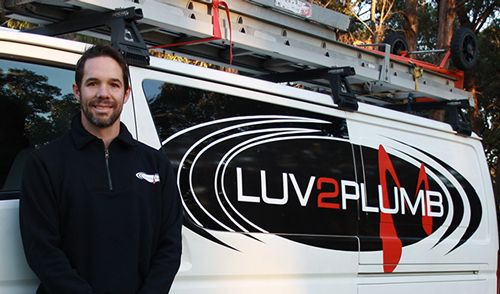 Led by Gareth Mepstead and established in 2005, Luv2Plumb have provided plumbing services to the residents of Berwick (all 48,000 of them) for more than 10 years. We have a great reputation and take pride in the work we do. Our team is local to Berwick allowing us to get to appointments on-time, and we know the area well.
Berwick has a blend of older furnished homes closer to the town centre and modern houses in the newer estates, so we have seen all variety of taps and know how to repair them to last a long time. Whether your taps are luxury or budget; mixer, spray or pillar style; or deck-, wall- or floor-mounted, Luv2Plumb are experienced and equipped to handle any tap problem.
If you have a plumbing issue, don't put off getting it fixed or it will turn into a bigger (and more expensive) problem to fix. Call now to talk with a Berwick plumber on 1300 259 053.