Drainage Clearing Service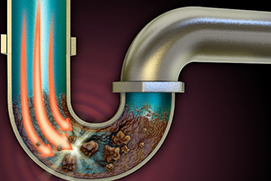 Blocked drains are one of the most common and frustrating issues around, and a problem that needs to be fixed right away so that your household can operate smoothly.
Blockages can occur in any pipe and can be caused by foreign objects, build up of dirt and grime, leaves, tree roots and even faulty sewer lines.
Whether it's a blocked pipe, blocked toilet or an unfortunate backed up sewerage pipe on your lawn; we have the right equipment and love to help!
Our 7 days/week emergency service ensures that your drains will be kept flowing and blockage free.
Call Luv2plumb now on 1300 259 053.
Causes of blocked drains
Tree roots
One of the biggest causes of blocked drains is tree roots. They work their way into your pipes and clog it up, they can also get very, very long. Tree's don't discriminate and will block up anything from your storm water pipes, gutters and sewerage pipes.
Food waste
Every time you wash food waste down your kitchen sink you add to the build up in the bend right below the sink, over time this reduces the space available for water to get through in the pipe slowing down water flow, causing unpleasant smells and eventually completely blocking the pipe.
Foreign Objects
In bathrooms and toilets the #1 culprit is foreign objects including nappies, wipes, cotton wool and sanitary items. These are objects that belong in the bin as they will cause havoc on your bathroom plumbing, blocking your waste pipes.