Toilet & Cistern Repairs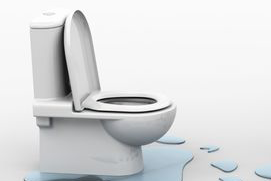 We fix all makes and models and can replace toilets where problems can't be fixed.
Toilet repairs are fast and relatively inexpensive when carried out by the expert plumbers at Luv2plumb.
We will come and do repairs at any time of the day - if you clog your toilet or it starts leaking in the middle of the night just give us a call on 1300 259 053.
Whether it's leaking, clogged or not flushing properly our experienced team will fix it.
Common Toilet Problems
While toilets are relatively simple they have moving parts and seals that wear out, leading to a wide range of problems from minor flushing issues to serious leaking problems.
Blocked Toilets
Toilet clogs are one of the most common toilet problems, and not particularly pleasant to deal with. This issue can build up over time or be caused by family members disposing of things that shouldn't be put in the toilet (such as sanitary products).
Leaking Toilets
Leaking and worn out seals are also common and can be severe depending on which seal fails. A break in the large seal between the tank and toilet bowl will cause a major toilet leak that will result in serious damage to your floor and sub floor if not fixed right away.
Water trickling
Trickling and phantom flushes can be caused by a worn out seal inside the tank. While not usually an emergency issue it is very annoying and will get worse over time.
Preventative maintenance
Toilets having moving parts and seals that wear out, if it has been a while since your toilet has been serviced it is a good idea to have a plumber visit to do an inspection and replace any seals.